Sports Awards Banquets
Since 1982/83

Tempe All-City Association


In 2008, the Tempe All-City Association named an Excellence Award in honor of Kori Jacobson, following her tragic passing in 2007. The Kori Jacobson Excellence Award is given to the top female athlete of the year in the Tempe Union High School District, based upon athletics, scholarship, and community service.
Kori was a Varsity Athlete at Mountain Point from 1994 to 1997 and was selected All-City in both Badminton and Softball. In Badminton, Kori had been the Singles State Champion in 1995 and 1997. She guided the Mountain Pointe team to a State Championship in 1997. Kori also played Softball for four years and was first Team All-Region in 1994-95, All East Valley and All State 2nd team infielder in 1995-96.
Kori received special recognition at the state and national levels, being named Student Sport Magazine Athlete of the Month, and was recognized in Who's Who in High School Athletics. She also received the National Fast Pitch Coaches Association Scholar Athlete Award.
Excelling in the academic arena, Kori ranked 2nd in a class of 780 students, with a 4.75 grade point average. Kori was a member of the National Foreign Language Honor Society, National Honor Society, and Senior Class Council. Following her high school career, she attended Georgia Tech University, playing varsity softball and graduating in three years.

Kori Jacobson Excellence Award

Megan Brouse, Desert Vista, Soccer
Jillian Lombardi, Desert Vista, Track & Field
Kendall Glover , Desert Vista, Volleyball
Karilyn Quon, Corona del Sol, Swimming
Vanessa Davis, Desert Vista, Track & Field
Chloe Kathryn Hacker, Corona del Sol, Swimming, Diving
BriAnna Schrimpf, Corona del Sol, Softball
Ciara Gonzales, Mountain Pointe, Softball
Stephanie Shober, Desert Vista, Swimming
MaryJoe Kolze, McClintock, Volleyball
Joy Burke, Marcos de Niza, Basketball
Aubri Carman, Mountain Pointe, Cross Country, Track

2018/19
2017/18
2016/17
2015/16
2014/15
2013/14
2012/13
2011/12
2010/11
2009/10
2008/09
2007/08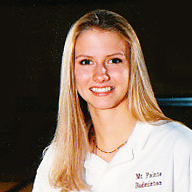 Jocelyn Briski, Desert Vista, Softball
Ella Lomigora, Corona del Sol, Volleyball
Katherine Chelus, Desert Vista, Swimming
Alicia McManus, Desert Vista, Cross Country, Track & Field