Tempe All-City Association
Sports Awards Banquets
Since 1982/83



MaryJo is a senior at McClintock High School. She is a three time All-State Girl's Volleyball, a four time Desert Sky All-Region 4A Vollyball, and a two time Desert Sky All-Region 4A Tennis award winner. A four time McClintock Female Scholar Athlete of the Year and a McClintock Female Athlete of the Year for the fourth consecutive year, MaryJo also has made the Queen Creek and Millennium Madness All Tournament Volleyball teams. She is listed as 24th in the nation on MaxPreps Volleyball, with 1.5 aces per set.
MaryJoe KolzeMaryJo has participated in Volleyball, Tennis, Soccer Marching Band, Symphonic Band, S.A.D.D., National Honor Society, Fellowship of Christian Athletes as well as many other organizations. MaryJo received the Presidential Scholarship from Missouri State University for incoming freshmen and will wear jersey #36 as an MSU Volleyball Bear for the 2010-11 season. She is also the 2009-10 AIA 4A-5A Scholar Athlete of the Year. MaryJo is also involved in many service organizations including the Muscular Dystrophy Association, Friends of the Phoenix Library, Bogden House, and Bridgeway Community Church.
MaryJo is ranked #1 in her class at Peggy Payne Academy with a cumulative GPA of 4.66.
MaryJo is the daughter of Thomas and Linda Kolze.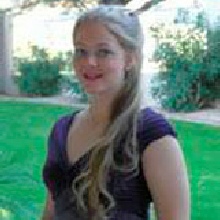 Kori Jacobson Excellence Award